Our Tail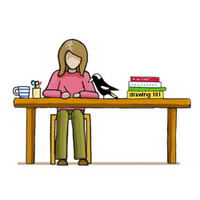 Meet the creator of Red Tractor Designs...
Hello, I'm Rachael Flynn - thanks for visiting the Red Tractor Designs website. I live on a cattle and sheep farm in a locality called Piambong, about 25kms north-west of Mudgee NSW, with my husband Mick, and my 2 boys, James and Paddy, in a weatherboard house full of odd socks.
I've always had an interest in art and creating things. Originally I was a Visual Arts teacher, but left teaching in 1998 to spend more time with my little boys. I painted a few farm pics back inthe 90's, and had some images reproduced onto greeting cards for the local markets. Originally known as 'Rachael Flynn Art' I changed my brand to 'Red Tractor Designs' in the year 2001.
Originally, my artwork was depicted scenes of farm life, such as a wheat harvest, shearing, and mustering stock, all painted on board or paper with a fine brush. In recent times, the RTD images are more 'character based', and are created by digital enhancement of original work, which allows me to produce a greater variety of work, and give characters a more 'consistent' look.
From greeting cards, the range has now grown to include notepads, magnets, books, calendars and licensed products such as tea towels and gallery-style stationery.
I love our beautiful Australian birds, drinking loose leaf tea, dogs, fair weather gardening, cooking, music and random podcasts.
The RTD staff are here to help you:
Di Pearce - General Manager
Di keeps the RTD business going. Her job includes receptionist, secretary, treasurer, tea lady, payroll officer, bin girl and everything in between. If you have any enquiries about an RTD product, Di will solve it for you:)
Tracey Newbould - Warehouse & Stock
Tracey has been with RTD since its inception in 2000 and has played an important role in the continual development of the company. Tracey keeps our products in tip-top shape on our shelves, and ensures that they are packaged securely so they arrive in your mailbox always looking their best:)