Our Tail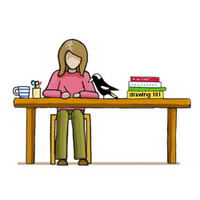 Meet the creator of Red Tractor Designs...
Hello, I'm Rachael Flynn - thanks for visiting the Red Tractor Designs website. I live on a cattle and sheep farm in a locality called Piambong, about 25kms north-west of Mudgee NSW, with my husband Mick, and my 2 boys, James and Paddy, in a weatherboard house full of odd socks.
I've always had an interest in art and creating things. Originally I was a Visual Arts teacher, but left teaching in 1998 to spend more time with my little boys. I painted a few farm pics back in the 90's, and had some images reproduced onto greeting cards for the local markets. Originally known as 'Rachael Flynn Art' I changed my brand to 'Red Tractor Designs' in the year 2001.
Originally, my artwork was depicted scenes of farm life, such as a wheat harvest, shearing, and mustering stock, all painted on board or paper with a fine brush. In recent times, the RTD images are more 'character based', and are created by digital enhancement of original work, which allows me to produce a greater variety of work, and give characters a more 'consistent' look.
From greeting cards, the range has now grown to include notepads, magnets, books, calendars and licensed products such as tea towels and gallery-style stationery.
I love our beautiful Australian birds, drinking loose leaf tea, dogs, fair weather gardening, cooking, music and random podcasts.
The Red Tractor Designs Staff
(A.K.A. The people who make Rachael look good)
If you've looked in awe at your 'just delivered' order from RTD, that's probably because it has been packed with love and care by either Meg, Em or Michelle:)
These ladies definitely know how to pack a parcel,
ensuring it arrives in your mailbox always looking its best:)
! Not only that, they keep on top of all incoming orders, ensuring that turnaround time for you is minimal. Meg, Em and Michelle also keep the warehouse spick and span, and are always searching for some space to put the latest shipment of products which Rachael forgot to tell them about...
Office and Administration
Although Julia has helped us with our bookkeeping for years, we officially welcome her to the 'front desk' of RTD! Julia looks after the processing of all orders and is our official CFO. If you need to contact RTD for any reason, you'll probably speak to Julia, who is always happy to assist! Another fun fact is that Julia is an accomplished candle maker and has her own brand, 'Rosie and Mable'. We love her candles so much, Julia has produced a line of them, especially for RTD!
Marketing
If Michelle is not dispatching orders, she's creating your weekly e-letter, keeping you up-to-date on all things RTD! Although Rachael presses the 'send' button to our subscribers, Michelle does most of the leg-work;)